Corporate Sponsors
---
AlixPartners has worked with clients around the world for nearly forty years, helping businesses respond to challenges when everything is on the line – from urgent performance improvement to complex restructuring, from risk mitigation to accelerated transformation. Each project is different, but they all have one thing in common – a need for decisive, informed, and often urgent action. And because that need is at the heart of everything we do, it has come to shape every aspect of our business. The way we work – with our clients, as well as each other – is as much a part of who we are as what we actually do. It's what makes us different – and the partner of choice for some of the world's most successful as well as some of the most challenged companies, when it really matters.
---
Ankura Consulting is a business advisory and expert services firm where we apply a deep understanding of both the opportunities and challenges clients face to deliver impactful, senior-level counsel. An independent firm built on five key principles – Integrity, Quality, Diversity, Collaboration, Longevity – Ankura's relationships extend beyond one engagement or issue and our industry experts are empowered to provide high-touch, unique approaches to clients every day. We offer a wide-range of services in Data Analytics & Technology Services, Investigations & Accounting Advisory, Litigation & Disputes, Regulatory & Contractual Compliance, Risk, Resilience & Geopolitical, Turnaround & Restructuring.
---
Berkeley Research Group, LLC (BRG) is a global consulting firm that helps leading organizations advance in three key areas: disputes and investigations, corporate finance, and strategy and operations. Headquartered in California with offices around the world, we are an integrated group of experts, industry leaders, academics, data scientists, and professionals working beyond borders and disciplines. We harness our collective expertise to deliver the inspired insights and practical strategies our clients need to stay ahead of what's next. We have in-depth experience across a wide range of industries and markets, from construction and energy to technology and healthcare. No matter what sector your business is in, we have experienced professionals who understand the challenges you face—making us better equipped to help solve them.
---
Cornerstone Research provides economic and financial consulting and expert testimony in all phases of complex litigation and regulatory proceedings. The firm works with an extensive network of prominent faculty and industry practitioners to identify the best-qualified expert for each assignment. Cornerstone Research has earned a reputation for consistent high quality and effectiveness by delivering rigorous, state-of-the-art analysis for over 25 years. The firm has 700 staff and offices in Boston, Chicago, London, Los Angeles, New York, San Francisco, Silicon Valley, and Washington.
---
FTI's Forensic and Litigation Consulting segment provides law firms and corporations around the globe with the industry's best and most complete range of forensic and litigation services. As an independent consulting firm, it combines end-to-end capabilities with unmatched qualifications. Its consultants are among the most experienced in the industry in complex matters and have been intimately involved in some of the nation's most historic high-stakes cases.
---

John Reed Stark Consulting, LLC is a proven and experienced trusted advisor to Boards of Directors, CEOs, CIOs, CISOs and GCs on the subjects of Cybersecurity, Incident Response, Cyber Insurance and Digital Regulatory Compliance. John Reed Stark has managed cybersecurity projects and incident response investigations for two decades – on behalf of both the government and the private sector. He is also an internationally recognized expert on SEC/FINRA regulatory issues, especially those relating to technology.
---
KPMG Forensic is a global network comprised of over 2,500 multidisciplinary professionals from member firms of KPMG International Cooperative (KPMG International) who assist clients in achieving the highest levels of business integrity through the prevention, detection, and investigation of fraud and misconduct, and by avoiding and resolving disputes. Using a wide range of sophisticated technology tools, KPMG Forensic helps organizations address the risks and costs involved with evidence and discovery management as well as the acquisition, management, and analysis of large data sets. Our professionals work alongside clients to handle information from its creation to its preservation, collection, analysis, and presentation in discovery. We also apply data analytics to assist with detecting fraud and misconduct.
---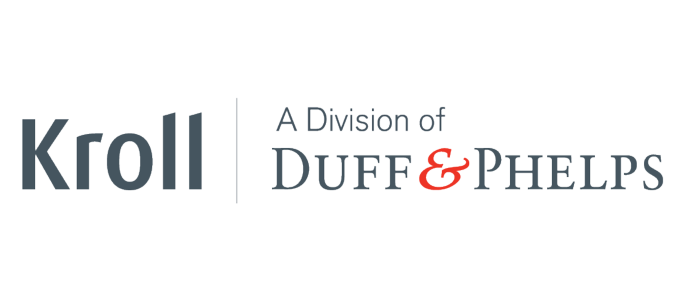 Kroll a division of Duff & Phelps, is the leading global provider of risk solutions. For more than 45 years, Kroll has helped clients make confident risk management decisions about people, assets, operations and security through a wide range of investigations, cyber security, due diligence and compliance, physical and operational security, and data and information management services. Headquartered in New York with more than 50 offices across nearly 30 countries, Kroll has a multidisciplinary team of over 2,000 employees and serves a global clientele of law firms, financial institutions, corporations, non-profit institutions, government agencies and individuals.
---
StoneTurn's leaders—partners and alumni of international public accounting and consulting firms—opted for a different professional services model. Our vision is to create a highly collaborative team of professionals who prefer "hands-on" client service and focus on forming long-term, trusted relationships. Founded in 2004, StoneTurn has worked with most of the Am Law 100 law firms in the U.S. and leading law firms in the U.K., nearly a third of the Fortune 500, and federal, state and local government agencies. We work on matters ranging from single-person staffing assignments to large global engagements.